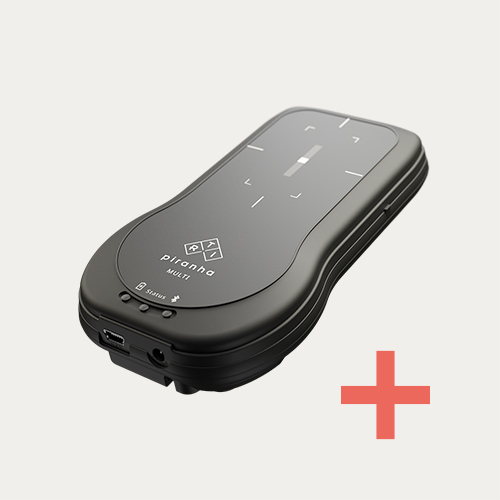 Piranha Premium Kit
The all-in-one complete solution for QA testing
All our Piranha Premium Kis are based on a Piranha MULTI along with a number of its probes and accessories, well-organized and safely stored in a robust, aluminum case. All our Piranha Premium kits are available at a discounted price.
The Piranha Premium Kit MULTI with associated probes is all you need for qualified diagnostics. Bring your case to any Rad/Fluoro, CT, Dental, and Mammography X-ray unit and perform your work without missing any item. It measures kVp, Time, HVL, Total Filtration, Dose, Dose rate, and presents Waveform.
Read about our pre-paid calibration and extended warranty.
$25,500
A complete QA solution
Get your favorite holders and probes neatly packaged in a case. Connect your system to your computer wirelessly or via USB and you have a complete QA solution.
Wide range of probes & accessories
DAP, holders, CT Ion Chamber, CTDP, Light Probe together with Ocean Next™ software.
Ocean Next™ software
Its compatibility with our Ocean Next™ software provides quick and repeatable QA work. Ocean can perform instant real-time analysis during your measurements. Use your tablet/laptop as both an interactive display during the measurements and as a powerful analysis tool when you are back at the office.
All-in-one multifunction X-ray meter
One-shot HVL
Solid-state detectors = no need to compensate for temperature & pressure
Can measure on scanning beams as well as tomosynthesis
Optimized for X-ray equipment from a large number of manufacturers
Built-in energy compensation
Can be used together with ion chambers
Wide-range detection of total filtration
100 meters Bluetooth range
Automatic recognition of external probes
Small, compact, & robust – easy to position
Backscatter protected
Long-lasting rechargeable battery
Always free firmware upgrades
Up to ten-year warranty
Two-year calibration cycle
Unique detector design to minimize position and rotation dependence
| | |
| --- | --- |
| Size | 133 x 75 x 26 mm |
| Weight | Approx. 400 g |
| Display | PC or Windows Tablet |
| Software | Ocean Next™ software for X-ray QA |
| Database support | Yes |
| Interface type | Built-in Bluetooth and USB |
| Detector Position Check | Yes |
| Simultaneous Dose Measurements | Yes - up to two detectors simultaneously |
| Use of Dose Detector with Active AEC | Yes - RTI Dose Probe or RTI T20 |
| Bluetooth range | 100 m free-in-air |
| USB cables | Included |
| Power source | Rechargeable Li ion battery / Ext. power supply |
| Battery life | Approx. 15 hours |
| Battery tested | According to UN 38.3 |
| No. of exposures needed for measurement | One |
| Min. exposure time | 0.1 ms |
| Memory | Unlimited |
| Operating temperature | 15 °c – 35 °C |
| Storage temperature | -10 °C - +50°C |
| Waveform sampling rate | 4 – 2000 samples/s |
| Waveform recording time | 1024 ms – 524 s |
| Backscatter Protection | Yes - main unit, RTI Dose Probe, and RTI T20 |
| Warranty | Two years |
| Extended Warranty | Up to ten years |
| Calibration Cycle | Two years |
| Standard | Complies with relevant parts of the standards IEC 61674 and IEC 61676 for Dosimetric instruments |
| EMC Tested | According to IEC 61326-1:2012 |
| PTB Approval | DE-17-M-PTB-0070 |

Tube Voltage
35 – 160 kV (±1.5 %)
PPV
Yes
Time
0.1ms – 2000 s (±0.5 % or ±0.5 ms)
Dose
1.3 nGy – 650 Gy. 150 nR – 74 kR. (±5 %)
Dose Rate
15 nGy/s – 320 mGy/s (±5 % or ±7 nGy/s)
1.7 μR/s – 37 R/s (±5 % or ±0.8 μR/s)
Auto Compensation
All dose parameters are automatically compensated for using measured kVp and TF over their specified ranges.
HVL
0.72 – 13 mm Al (±10 % or ±0.2 mm)
Total Filtration
1.0 – 90 mm Al (±10 % or ±0.3 mm)
Pulses
1 – 65535 pulses (±1 pulse)
Dose/pulse
8 nGy/pulse – 0.9 Gy/pulse
Pulse Rate/Frequency
0.5 – 180 Hz
Pulse width
4 ms – 2000 s

Tube Voltage
Target/Filter: Mo / 30 μm Mo
Range: 18 – 49 kV
Inaccuracy: ±0.5 kV or ±1.5 %
Target/Filter: Mo / 25 μm Rh
Range: 20 – 46 kV
Inaccuracy: ±1 kV
Target Filter: Rh / 25 μm Rh
Range: 25 – 49 kV
Inaccuracy: ±1 kV
Target Filter: Rh / 1.0 mm Al
Range: 22 – 35 kV
Inaccuracy: ±1 kV
Target Filter: W / 50 μm Rh
Range: 20 – 49 kV
Inaccuracy: ±0.5 kV or ±1.5 %0,
Target Filter: W / 0.50 mm Al
Range: 20 – 48 kV
Inaccuracy: ±1 kV
Target Filter: Mo / 1.0 mm AI
Range: 18 – 49 kV
Inaccuracy: ±1 kV
Target Filter: W / 50 μm Ag
Range: 20 – 40 kV
Inaccuracy: ±0.5 kV or ±1.5 %
Target Filter: W / 75 μm Ag
Range: 20 – 40 kV
Inaccuracy: ±1 kV
Target Filter: W / 50 μm Rh (Gio)
Range: 22 – 35 kV
Inaccuracy: ±1 kV
Target Filter: W / 50 μm Rh (Gio)
Range: 22 – 35 kV
Inaccuracy: ±1 kV
Target Filter: W / 0.70 mm Al
Range: 20 – 49 kV
Inaccuracy: ±0.5 kV or ±1.5 %
Target Filter: W / 50 μ m Ag (Sel)
Range: 22 – 39 kV
Inaccuracy: ±0.5 kV or ±1.5 %
Target Filter: W / 50 μ m Rh (Sel)
Range: 22 – 39 kV
Inaccuracy: ±0.5 kV or ±1.5 %
Target Filter: W / 0.30 mm Cu
Range: 40 – 49 kV
Inaccuracy: ±0.5 kV or ±1.5 %
Target Filter: W / 0.70 mm Al (Inno/Crist)
Range: 20 – 49 kV
Inaccuracy: ±0.5 kV or ±1.5 %
Target Filter: W / 50 μ m Rh (Inno/Crist)
Range: 20 – 49 kV
Inaccuracy: ±0.5 kV or ±1.5 %
Target Filter: Mo / 25 μ m Rh (Sel)
Range: 20 – 46 kV
Inaccuracy: ±0.5 kV or ±1.5 %
Target Filter: Rh / 30 μm Ag (GE)
Range: 27 – 40 kV
Inaccuracy: ±0.5 kV or ±1.5 %
Target Filter: Rh / Ag IQST (GE)
Range: 31 – 37 kV
Inaccuracy: ±0.5 kV or ±1.5 %
Target Filter: Mo / 0.25 mm Cu (GE)
Range: 40 – 49 kV
Inaccuracy: ±0.5 kV or ±1.5 %
Target Filter: Rh / 0.25 mm Cu (GE)
Range: 40 – 49 kV
Inaccuracy: ±0.5 kV or ±1.5 %
Target Filter:Mo / 30 μm Mo (GE)
Range: 22 – 32 kV
Inaccuracy: ±1 kV
Target Filter: Affirm Prone W / 50 μm Ag
Range: 20 – 40 kV
Inaccuracy: ±0.5 kV or ±1.5 %
Target Filter: Affirm Prone W / 0.70 mm Al
Range: 20 – 49 kV
Inaccuracy: ±0.5 kV or ±1.5 %
Time
0.1 ms – 2000 s (±0.5 % or ±0.5 ms)
Dose
1 nGy – 1000 Gy. 3 µR – 150 kR (±5 %)
Dose Rate
25 nGy/s – 530 mGy/s (±5 % or ±12 nGy/s)
30 μR/s – 60 R/s (±5 % or ±1.5 μR/s)
HVL Range
0.19 – 4.3 mm Al (depending on Target/Filter combination) (±10 %)
Pulse
1 – 65535 pulses (±1 pulse)

| | |
| --- | --- |
| Tube Voltage | 45 – 155 kV (±1.5 %) |
| Time | 0.1 ms – 2000 s (±0.5 % or ±0.5 ms) |
| Total Filtration | 1 – 90 mm Al (±10 % or ±0.3 mm) |
| HVL | 1.2 – 14 mm Al (±10 % or ±0.2 mm) |
| Pulses | 1 – 65535 pulses (±1 pulse) |

| | |
| --- | --- |
| Tube Voltage | 35 – 125 kV (±1.5 %) |
| PPV | Yes |
| Time | 0.1ms – 2000 s (±0.5 % or ±0.5 ms) |
| Dose | 1.3 nGy – 650 Gy. 150 nR – 74 kR. (±5 %) |
| Dose Rate | 15 nGy/s – 320 mGy/s (±5 % or ±7 nGy/s). 1.7 μR/s – 37 R/s (±5 % or ±0.8 μR/s) |
| Auto Compensation | All dose parameters are automatically compensated for using measured kVp and TF over their specified ranges. |
| HVL | 1.2 – 14 mm Al (±10 % or ±0.2 mm) |
| Total Filtration | 1.0 – 90 mm Al (±10 % or ±0.3 mm) |
| Pulses | 1 – 65535 pulses (±1 pulse) |
| Dose/pulse | 8 nGy/pulse – 0.9 Gy/pulse |
| Pulse Rate/Frequency | 0.5 – 180 Hz |
| Pulse width | 4 ms – 2000 s |

Size
20 x 45 x 7.4 mm, 0.79" x 1.8" x 0.29"
Weight
85 g (3 oz)
Cable length
2.0 m (6.6 ft)
Backscatter protected
Yes
Dose
100 pGy – 1.5 kGy. 12 nR – 170 kR (± 5%)
Dose Rate
40 nGy/s – 150 mGy/s (±5 % or ±10 nGy/s)
4.6 μR/s – 16 R/s (±5 % or ±1 μR/s)
260 μR/min – 1000 R/min (±5 % or ±6 μR/min)
Time
0.1 ms – 34000 s (±1 % or ±0.5 ms)
Pulses
1 – 65535 pulses (±1 pulse)
Dose per pulse
1 nGy/pulse – 0.3 Gy/pulse
Pulse rate/frequency
0.5 – 100 Hz
Pulse width
4 ms - 2000 s

| | |
| --- | --- |
| Type | MAS-1B |
| Current range | 0.1–3000 mA |
| Inaccuracy | ±1 % or ±0.01 mA |
| Frequency range | DC–500 Hz (-3 dB) |
| Size | 60 x 35 x 72 mm |
| Weight | 125 g |
| Battery life | Around 100 h |
| Rechargeable battery | With mini-USB connector |
| Cable length | 4 m (extension available) |
| Connector | Hirose |

| | |
| --- | --- |
| Type | MAS-2 |
| Current range | 10 - 4000 mA |
| Inaccuracy | ±5 % or ±2 mA (±3 % at 250 mA) |
| Charge range | 0.1 mAs - 9999 mAs |
| Size | 183 x 61 x 36 mm |
| Connector | Hirose |
| Maximum cable diameter | 24 mm |
| Power source | 9 V "6LR61" Alkaline battery |

| | |
| --- | --- |
| Dose rate range | 67 nGy/s-2.2 Gy/s. 0.46 mR/min - 15000 R/min |
| Inaccuracy | ±5 % or ±15 nGy/s |
| Spatial resolution | 0.25 mm |

| | |
| --- | --- |
| Air kerma rate | 0.3 mGycm/s to 3 Gycm/s |
| Inaccuracy | ±5 % or ±0.03 mGycm/s |
| Connector type | LEMO triaxial |
| Cable | 2 m, low noise triaxial |
| Active volume | 16 cm³ |
| Active length | 300 mm |
| Diameter | 12 mm, 12.6 incl O-rings |
| Typical leakage | ±20 fA |
| Radiation quality | 70 - 150 kV |
| Sensitivity | 30 mGycm/nC |
| Energy Dependence | ±1 % |